Answer:
A diagonal is a straight line from a vertex of a polygon to any other vertex of the polygon not next to it.
For example,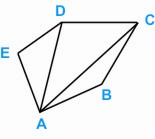 There are two diagonals from A in the pentagon namely AC and AD. The word diagonal derives from the Greek, later adopted into Latin as diagonus (slanting line).
In mathematics, in addition to its geometric meaning, a diagonal is also used in matrices to refer to a set of entries along a diagonal line.